Choosing the best tablet for Realtors can be challenging, not only because of all the current options, but also because new models are coming out constantly and buyer's remorse and FOMO can be a dangerous combo.
But if you're even thinking about upgrading your tech game with a new tablet or procrastinating on replacing that crusty laptop with a more modern touchscreen device, the sooner you start researching (and deal hunting) the better!
So in this blog post, we'll help you navigate the labyrinth of options and narrow down the best tablet for real estate agents.
Since Curb Hero is the top rated tablet app for agents (and it's free so check it out on either iOS or Android) we've actually done the legwork and put major tablet manufacturers and models to the test, so you won't have to stress about making the right choice. Use these quick links to navigate your tablet decision:
The Best iPad for Realtors
Apple's range of iPads continues to be a top choice among real estate agents especially since agents also skew more toward also being iPhone users (don't worry Android users we've got your recommendations below too!)
Having the same operating system makes switching from one device to the other seamless since the UX is nearly identical AND files, data and even apps are synched between the iPhone and iPad.
And besides the user-friendly interface, the iPad boasts sleek hardware designs, powerful performance, and a seamless integration of hardware and software. The Apple ecosystem boasts an abundant selection of real estate apps and a vibrant App Store, enabling you to optimize your productivity and stay ahead of the game.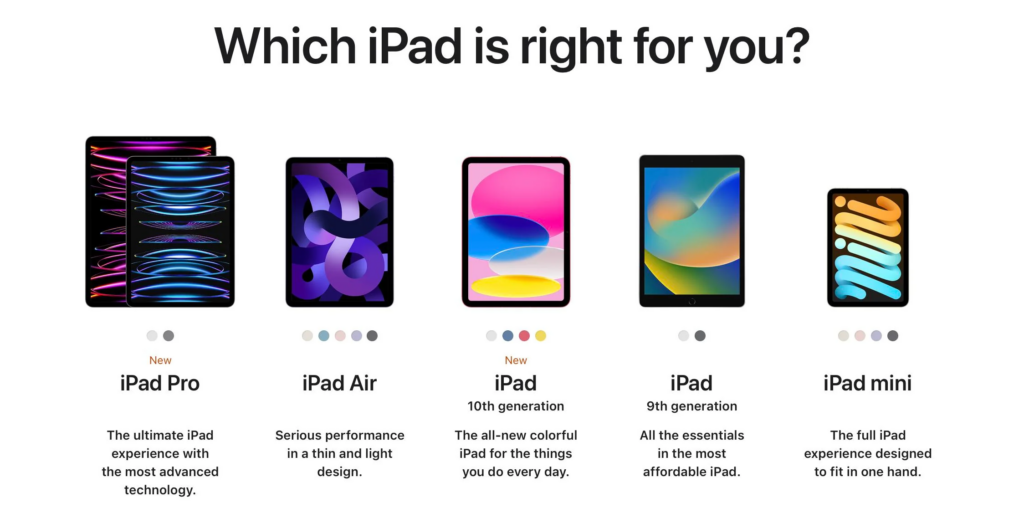 iPad Pro 12.9 (2022) Top Pick
Apple's premium tablet offering is the iPad Pro 12.9 (2022), featuring a powerful M2 chipset, equating to the processing capability of a laptop. While this might be excessive given the M1 chipset from the previous generation was rarely stretched to its limits, it assures longevity for the tablet.
Mirroring its 2021 predecessor (see below), the iPad Pro 12.9 (2022) also boasts a large 12.9-inch mini-LED screen, offering an exceptional viewing experience superior to that of smaller iPads. Despite packing advanced technology, it remains impressively slim and lightweight. Features such as Face ID, proficient cameras, and compatibility with accessories like the Apple Pencil 2 and Magic Keyboard further enhance its utility. The hover-detection feature of the Apple Pencil 2, in particular, improves the tablet's drawing capabilities.
However, the iPad Pro 12.9 (2022) comes with a hefty price tag and may offer more features than the average user requires. Nonetheless, if you're in the market for a high-performance tablet, this is the one to consider.
Specs:
OS: iPadOS 16
Display: 12.9-inch, 2048 x 2732 pixels, mini-LED
Processor: Apple M2
RAM: Not specified
Storage: 128GB/256GB/512GB/1TB/2TB
Camera: 12MP + 10MP + LiDAR rear, 12MP front
Battery Life: Up to 10 hours
Weight: 688g
Other: Face ID, Magic Keyboard and Apple Pencil 2 support
iPad Pro 12.9 (2021)
The iPad Pro 12.9 (2021) is an exceptional device, with its standout feature being the powerful M1 chipset, borrowed directly from Apple's high-end 2021 Macs, enabling it to deliver desktop-level performance in a tablet form factor.
Most reviewers expectations were exceeded when putting this model through the paces…primarily proficiency in tasks like photo and video editing. Beyond its power, this tablet mini-LED's screen is sharp, luminous, vibrant, and thoroughly impressive.
Additionally, the iPad Pro 12.9 (2021) offers a durable battery, a quality camera, a high-end aluminum build, and compatibility with the Magic Keyboard and Apple Pencil 2 – available separately, these accessories transform the tablet into a highly productive device, which we found ourselves utilizing extensively during our testing phase.
In conclusion, if you're looking for a tablet for serious work or creative tasks the iPad Pro 12.9 (2021) is an ideal choice. However, if your needs are more modest, this device might seem overly large and expensive, whereas if you're in need of even more power, the M2 Pro is available and ready to deliver.
Specs:
OS: iPadOS 16
Display: 12.9-inch, 2048 x 2732 pixels, mini-LED
Processor: Apple M1
RAM: Not specified
Storage: 128GB/256GB/512GB/1TB/2TB
Camera: 12MP + 10MP rear, 12MP front
Battery Life: Up to 10 hours
Weight: 682g
Other: Magic Keyboard and Apple Pencil 2 support
Other popular iPads amongst Realtors
iPad Air (2022)
OS: iPadOS 16
Display: 10.9-inch, 1640 x 2360 pixels
Processor: Apple M1
RAM: Not specified
Storage: 64GB/256GB
Camera: 12MP rear, 12MP front
Battery Life: 10 hours
Weight: 461g
Other: Apple Pencil compatibility
iPad Pro 11 (2021)
OS: iPadOS 16
Display: 11-inch, 1668 x 2388 pixels
Processor: Apple M1
RAM: Not specified
Storage: 128GB/256GB/512GB/1TB/2TB
Camera: 12MP + 10MP rear, 12MP front
Battery Life: Up to 10 hours
Weight: 466g
Other: Magic Keyboard and Apple Pencil support
iPad Air 4 (2020)
OS: iPadOS 16
Display: 10.9-inch, 1640 x 2360 pixels
Processor: A14 Bionic
RAM: Not specified
Storage: 64GB/256GB
Camera: 12MP rear, 7MP front
Battery Life: Up to 10 hours
Weight: 458g
Other: Smart Keyboard and Apple Pencil support
iPad 10.9 (2022)
OS: iPadOS 16
Display: 10.9-inch, 2360 x 1640 pixels
Processor: Apple A14
RAM: Not specified
Storage: 64GB / 256GB
Camera: 12MP rear, 12MP Ultra Wide front
Battery Life: Up to 10 hours
Weight: 477g
Other: Not specified
How do you know which iPad is best for realtors?
There are a few key factors to consider, starting with your budget. Nowadays iPads come in all shapes, sizes, and most importantly price ranges. So first, decide how much you're willing to spend and then look at the various features. The model year and the storage size are going to be the biggest factors for changes in price.
Best Android Tablet for Real Estate agents
Generally, when it comes to tablets, the Apple steals the spotlight, leaving Samsung and the smaller Android tablet makers to carve their own niche. While these tablet manufacturers may not have the same brand recognition or marketing power, don't underestimate their potential! They are generally priced much MUCH lower and still pack a punch when it comes to work-related tasks. So they may not always have the sleek aesthetic, but they make up for it with affordability and a focus on core functionality.
Enter the world of Android with Samsung's Galaxy Tab series. Samsung offers a diverse range of tablets that cater to various needs and budgets. The Galaxy Tab devices are known for their impressive displays, multitasking capabilities, and expandable storage options, making them excellent companions for realtors who deal with visual-heavy content and require flexibility. Additionally, Samsung's tablets often come bundled with the S Pen, providing a handy tool for note-taking, document signing, and precise stylus input.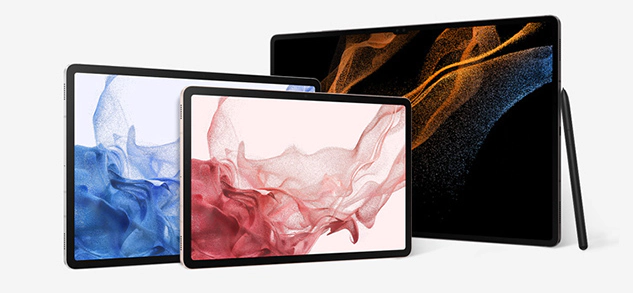 Samsung Galaxy Tab S8 Ultra – Best Android Tablet
The Galaxy Tab S8 Ultra, the largest tablet ever in Samsung's Galaxy lineup, is a truly formidable Android tablet. With its enormous and stunning display, top-of-the-line performance, dual front-facing cameras, and a design that maintains a manageable weight, it caters to the requirements of most users.
Other advantages include robust, scratch-resistant metallic body and enhanced Wi-Fi and Bluetooth connectivity.
Specs:
OS: Android 13
Display: 14.6-inch, 1848 x 2960 pixels
Processor: Snapdragon 8 Gen 1
RAM: Not specified
Storage: 128GB/256GB/512GB, with microSD slot
Camera: 13MP + 6MP rear, 12MP + 12MP front
Battery: 11,200mAh
Weight: 726g
Other: S Pen stylus included
Samsung Galaxy Tab S7 Plus – Power meets affordability
The Galaxy Tab S7 Plus has held its position as Samsung's top-tier tablet for a considerable time, showing impressive performance. However, its prospects may be limited due to its aging hardware but that means it is often available at discounted prices. And don't assume aging hardware doesn't mean it's still durable. Many remark that its construction continues to impress
Specs:
OS: Android 13
Display: 12.4-inch, 1752 x 2800 pixels, Super AMOLED
Processor: Snapdragon 865 Plus
RAM: Not specified
Storage: 128GB/256GB, with microSD slot
Camera: 13MP + 5MP rear, 8MP front
Battery: 10,090mAh
Weight: 575g
Other: 5G connectivity, S Pen stylus included
Lenovo Tab P11 Plus – Most Affordable Android Tablet
The Lenovo Tab P11 Plus is a top-notch Android tablet that boasts an immersive 11″ 2K display, making it known best for entertainment but tablet also gets high marks for creativity and productivity, providing an excellent platform for sketching, painting, or note-taking. It's an excellent choice for small businesses.
Specs:
OS: Android 11
Display: 11″ 2K (2000 x 1200) IPS, touchscreen, 400 nits, NTSC 70%, 60Hz refresh rate
Processor: MediaTek® Helio G90T (Octa-Core, 2x A76 @2.05GHz + 6x A55 @2.0GHz)
RAM: 6GB
Storage: 128GB
Camera: 13MP rear, 8MP front
Battery: 7700mAh
Weight: 490g
Other Popular Android Tablets for Realtors:
OnePlus Pad

: The "OnePlus Pad" is an advanced tablet from OnePlus that combines top-tier specifications with a user-friendly interface, making it an ideal choice for both work and leisure.

Lenovo Yoga Tab 13

: a versatile and high-performing tablet from Lenovo, boasting a 13-inch display and unique design features like a built-in kickstand, delivering a premium multimedia experience and superior productivity capabilities.
How we Ranked the Tablets for Realtors
Every tablet on this list has been thoroughly tested and put through a comprehensive review, so we know exactly what makes them tick and how they compare. From there, we've ranked them based on our findings, factoring in their price and value too.
First things first, we examined the key features that real estate agents need in a tablet. We looked for devices that offer:
Seamless multitasking capabilities, allowing you to juggle your email, CRM, and marketing content as well as basic creative tools . Speed and responsiveness are crucial, so we put each tablet through a series of performance tests, measuring everything from app loading times to graphic-intensive tasks.
Display quality: as a realtor, you need a tablet that can work as a presentation device so stunning visuals to share high-resolution property images and videos with clients and colleagues is important. We evaluated the color accuracy, brightness levels, and sharpness of each tablet's display, ensuring that you can enjoy crystal-clear images and vibrant colors, even in bright sunlight or dimly lit rooms.
Battery life was also a major factor taken into account since most real estate agents are on the go, conducting showings, meeting clients, and attending open houses. Your tablet needs to keep up with your demanding schedule without constantly begging for a charger. So, we meticulously tested the battery life of each tablet, simulating realistic usage scenarios to determine how long you can rely on them before having to recharge.
Then we decided on options that met the above criteria for both the iOS and Android operating systems and selected models within various price points. While we recognize that real estate agents need high-performing devices, we also understand the importance of budget-conscious decisions. Our goal was to find tablets that offer the best bang for your buck, ensuring that your investment is worth every penny.
By weighing all these factors, we were able to rank the tablets on our list. But remember, the "best" tablet for you ultimately depends on your specific needs and preferences. We encourage you to explore the individual reviews and compare the features that matter most to you.
Important Criteria for Realtors when Selecting a Tablet
The main things to consider at the beginning your search are: a) how much you want to spend, and b) what operating system you want – with Apple's iOS and Android being the two main options. Here's a bit more to consider as you do this research.
What is the best tablet brand for realtors?
When it comes to tablet brands it's pretty much Apple and then there's everyone else…most of which build devices using Android.
So this is less a question about brand and more about operating system: iOS (Apple) vs Android (Google). The best tablet brand for any user is typically whatever has the operating system that is going to be easiest for them to utilize.
If you're an Apple iPhone user then you'll want to stick within the iOS operating system and pick an iPad. The transition to the iPad's UI will be seamless. The only instance when you should consider the Android options is if you're within a tight budget and/or if you're looking to ditch your iPhone for an Android phone.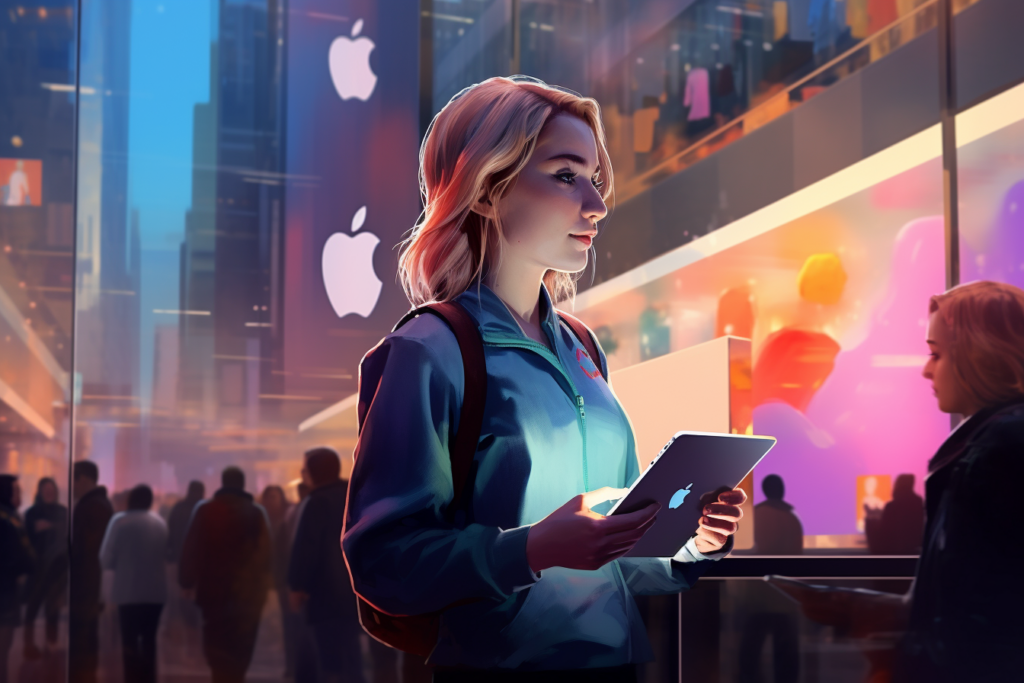 Now, if you're an Android user you should probably review both iPads and the Android tablets we recommended above. Why? Well Android phone users tend to be more open to crossing operating systems largely because of the performance and usability of the iPad for realtor needs.
Just know the following when making this decision:
There will be a bit of a transition and learning curve if moving to an iPad (new user interface, and a lot of your data and apps will need to be reinstalled/reconfigured)
Even even an Android tablet may require some getting used to since Android has so many brands and device models and they all have their unique features, interface behaviors, and varying interconnectivity between other devices.
Then once that's decided use either our Best iPad or Best Android Tablet list to pick the best model within the desired operating system.
Which is the best tablet size for realtors?
If you're a real estate agent, chances are you will also be using your tablet as a presentation device with potential clients. Specifically situations like listing/buyer presentations, sharing property details and marketing examples are not as effective with a small tablet screen. Plus if you ever want to use your tablet as an Open House Sign-in with an app like Curb Hero, you'll want a larger screen to improve readability especially for older prospects.
Picture this: you're at your open house, with Curb Hero installed (available on either iOS or Android) ready to get potential buyers to sign-in on your slick digital sign-in. You whip out your trusty tablet, but alas, the small screen is so small, leaving clients straining to see property images and barely able to enter their info into the sign-in. Cue the sighs of disappointment.
When it comes to presentation power, size truly matters. A larger tablet screen (11 inches or more) provides more real estate (pun intended) to showcase your property images, videos, and marketing examples with clarity and impact.
But wait, you might be wondering, "Doesn't a bigger screen mean a clunkier tablet?" Not necessarily! Tablet manufacturers have managed to strike a balance between size and portability, offering sleek and lightweight options with larger displays. So you can enjoy the benefits of a roomy screen without sacrificing the convenience of a sleek device.
Tablet Alternatives and Convertible Laptops for Realtors
The most popular device in the 2-in-1 PC (aka convertible laptop) category is the Microsoft Surface. If you're the type of realtor who requires the power of a laptop in a tablet form, then Microsoft Surface might be right up your alley. With its innovative design, detachable keyboard, and robust performance, the Surface lineup blurs the line between tablet and laptop. This option is ideal for realtors who need to run desktop applications, work with complex files, or create presentations on the go. The Surface Pro, in particular, offers a full Windows experience with the convenience of a tablet.
Also most major laptop manufacturers (Dell, HP, Acer, Asus, etc) have similar convertible devices that can switch easily between a laptop and touchscreen tablet orientation.
So, whether you're a tech enthusiast or a reluctant adopter our rankings are based on thorough testing and evaluations. We've done the research so you can focus on what you do best – delivering exceptional service to your clients and closing those deals like a boss.
As a tech-savvy real estate agent, your tablet shouldn't just be a tool for emails and video conferencing. It's your Swiss Army knife, helping you manage your CRM, organize listings, and present your stellar marketing materials. That's why picking the best tablet is crucial for realtors.
Hopefully our suggestions help but also remember that finding the best tablet for you ultimately comes down to your individual needs, preferences, and the ecosystem you're already familiar with. Consider factors such as software compatibility, app availability, pricing, hardware features, and your comfort level with the operating system. So, take some time to evaluate what matters most to you and embark on your tablet journey. Happy tablet hunting!
What to consider when real estate blogging to bring awareness to your business and expertise. Blogging provides a vehicle into which you can pour all of your knowledge and unique…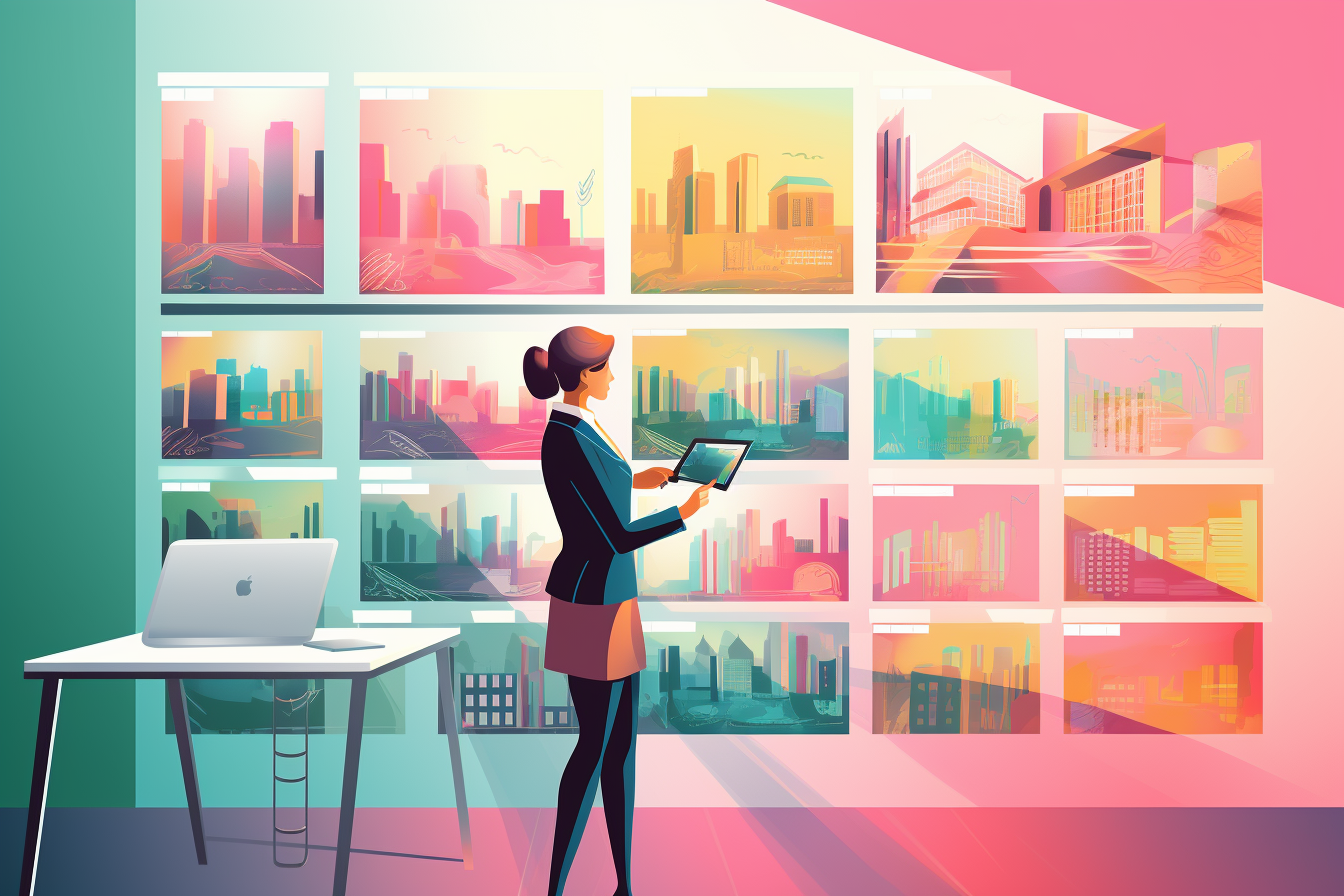 On the actual day of your Open House one of the most important marketing elements is your signage. It's surprising especially in the digital age that physical signs can still…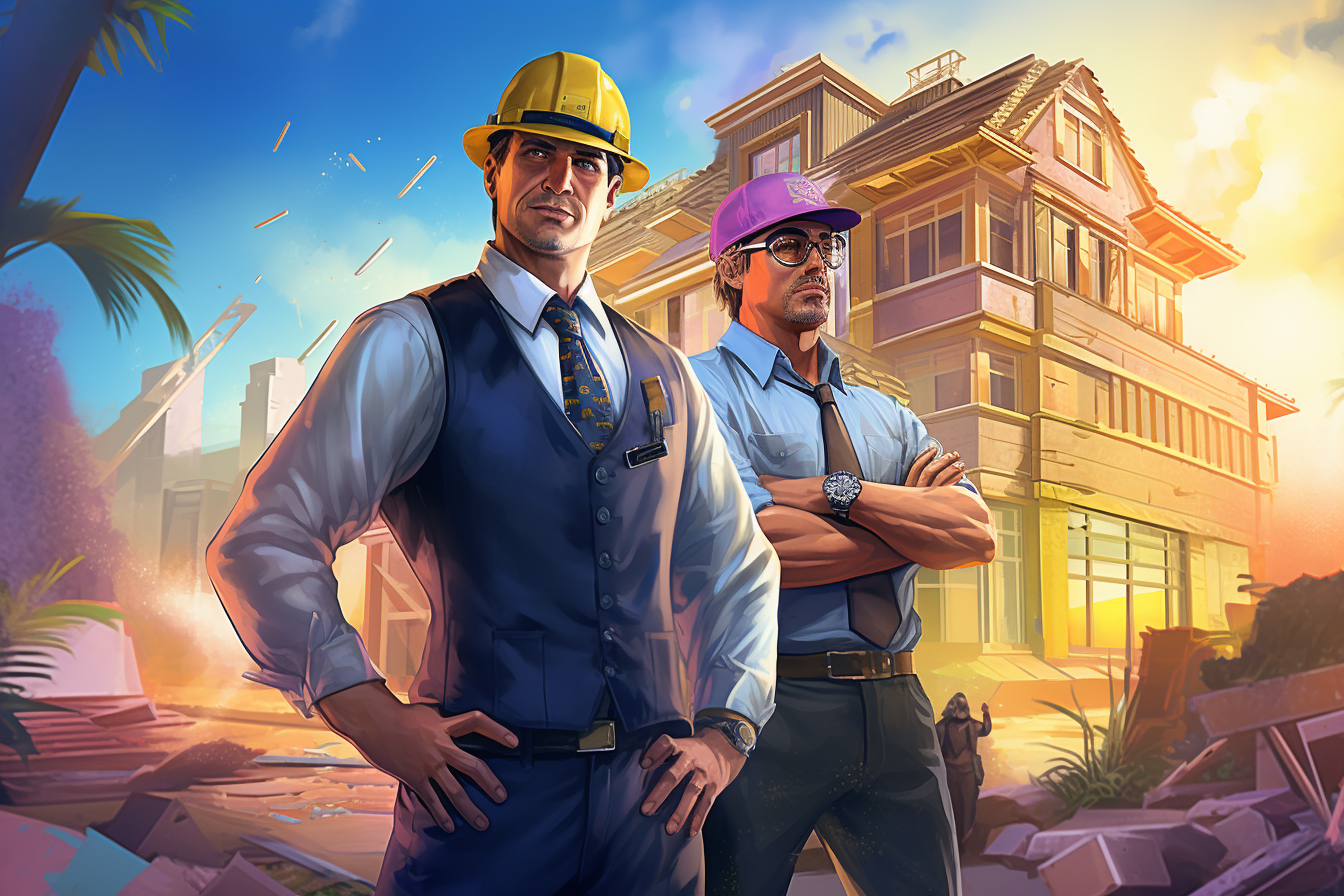 Is it time to bring in the sign spinners? If so, you must be in marketing mode on your new development. That's why we're diving headfirst into everything home builder…