QR Code Real Estate Signs
Want to upgrade your signs from static signs to smart signs? It's actually never been easier because of the adoption of QR Codes and free software like Curb Hero. And these little squares can add XL interactivity to your real estate signs – for example they can connect prospects to valuable online content like image galleries and video/virtual tours, directions, and offer lead capture.
And usually after reading these benefits, astute agents will ask, well how much is it?? In this case, all of this brand enhancing goodness is actually free.
So if you're looking to level up your offline marketing while still showing off your digital expertise, look no further because we've got a whole lot of QR code real estate sign info coming your way! Here's what we'll cover:
Why QR Codes are Now Mainstream (and how you can take advantage)
Now, I know what you're thinking. "QR codes? Aren't those relics from the past, like those cringe-worthy fashion trends we thought were cool but now make us cringe?" 😅 Well, my friend, let me assure you that QR codes are back in the game, and this time, they're here to stay!
Gone are the days standalone QR Code scanner apps. Nowadays, every smartphone comes equipped with a QR code reader built right into the camera app.
And these funny little squares can be printed in the real world to connect people all kinds of online content…so let's talk about why this is important for your real estate business.
Imagine you have a new listing and you have a QR Code on the yard sign. A potential buyer or a curious neighbor walks past and wants to know more about it. How much? What's it like inside? When's the Open House?
Sure they could call/text/email you…but they're just curious at this stage so it's unlikely they're not gonna through the trouble of contacting someone and risk getting a hard sell.
Alternately they can Google the address and hope the listing shows up on Zillow or another portal…but typing out an address is also a bit of a chore especially if it's uncertain they'll find the info they're looking for PLUS these platforms often advertise your competition even on your listing.
This is where the QR code is especially handy. They can scan that QR Code on the sign to view all that info and more on your branded landing page.
Also with free QR Code platforms like Curb Hero you can also ask them to fill out their contact info before getting these details (this is very effective as a lead capture technique).
Plus you'll appear like a tech-savvy marketing ninja. Which may help develop your brand amongst other would-be sellers. They'll be like, "Whoa, check out this agent! They're the hippest thing since avocado toast!" Okay, maybe they won't say it exactly like that, but you get the idea.
QR Code Real Estate Sign Examples
Scroll through some of these examples. Also the QR Codes work in ALL the examples below so get your phone out!
Here are examples of Sign Riders too. Sign riders are particularly great because you can easily update them as the listing status changes but leave the main yard sign the same.
And also the QR Code approach can also be applied to post cards, door hangers and more. Curb Hero can be used for free (create an account here) to generate the QR Code and we also have a graphic design library where you can use your branding and QR Code in one of many templates.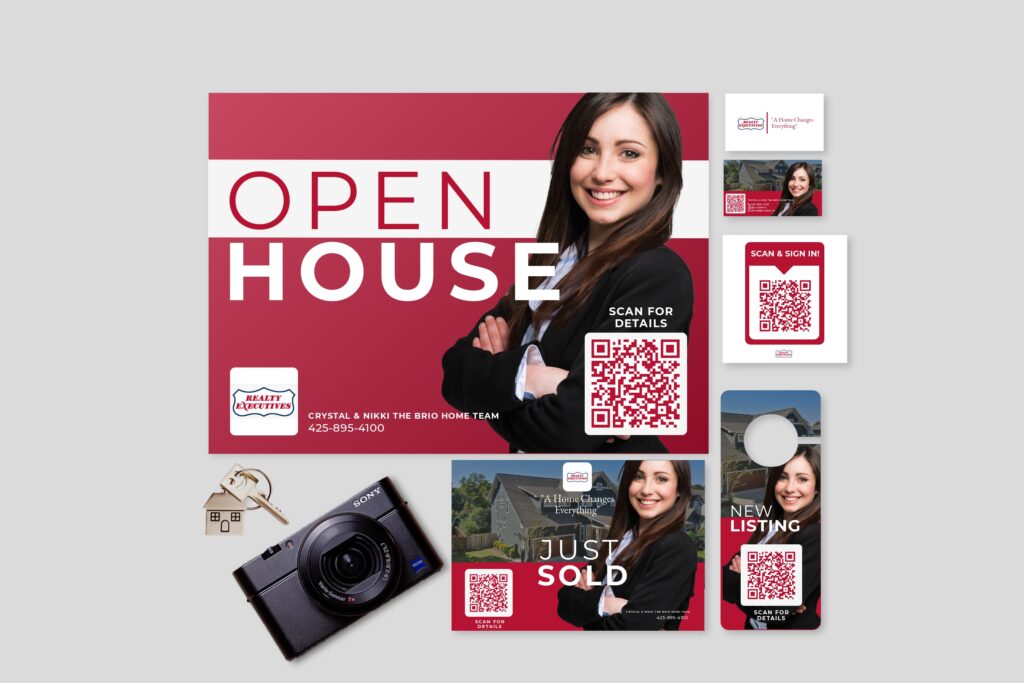 Try Creating Your Own QR Code Real Estate Signs
Use our QR Code Real Estate Sign templates here to create your own Open House signs. Also if you first need a branded QR Code check out the section below!
How to Create Free Branded QR Codes for Real Estate
With the rise of popularity in QR Codes, there are many options for agents to generate their own QR Codes. Here are a few:
Web browsers like Google's Chrome Browser has an option to create a QR Code from any webpage. Just right-click and you'll see it. Just a heads up though…these browser QR Codes will contain an offbrand dinosaur in the middle
There are online services that will let you generate branded QR Codes. Warning: these services let you start using their service for free…but if you don't upgrade to paid option, the links may break making your marketing ineffective…plus dead links harm your brand.
Then there's Curb Hero. You can generate beautifully branded QR Codes for free with no catch. Here's an example.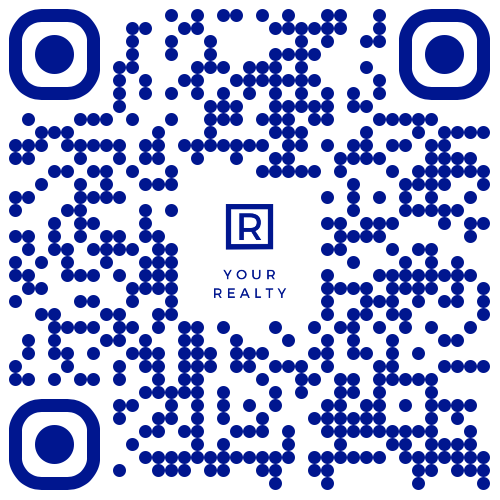 How to update your QR Code landing page without changing the QR Code
Here's a drawback with QR Codes. Most of them are forever locked to one landing page. Meaning every new listing or marketing campaign requires a new QR Code.
In the case of QR Code Real Estate Signs that's a showstopper. It's cost prohibitive to redesign and reprint new signs for every listing.
Apologies for another Curb Hero plug but our Dynamic QR Code (also free!) solves this by letting agents change their QR Code landing page anytime in this menu.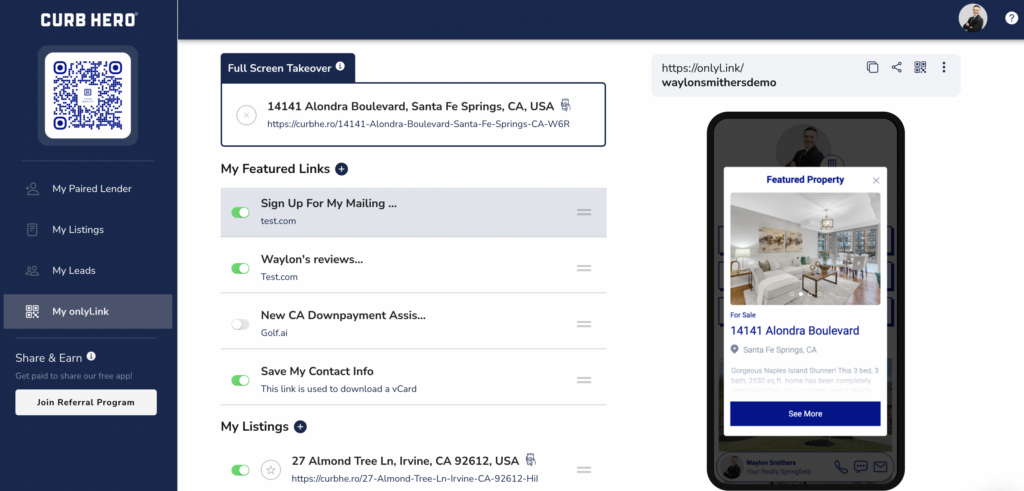 One of the most remarkable advantages of using QR code real estate signs is their unrivaled lead capture potential. Unlike traditional static signs that merely provide basic information, QR codes allow you to gather valuable data from potential clients and supercharge your marketing efforts.
Benefits of using a QR Code on Signs
Guessing if you're reading this you're aware of the benefits to adding a QR Code to your Real Estate Signs, but here's a quick list just in case:
Connect real world prospects to vastly more valuable online content like image galleries and video/virtual tours
Link to directions for easier navigation to an Open House
Capture lead info and give prospects easier ways to contact you
Enhance your brand while saving money and time
The other benefit of QR Codes is that the scanners that are built into smartphone cameras are getting better all the time. QR Codes can be scanned from across a street. QR Code scanners can work at distances further than the human eye could read an agent's phone number on a comparable real estate sign placement.
Also QR codes can be scanned while moving. QR Codes can be scanned even when running or in a vehicle.
So it's really about directing prospects to additional content about a property with minimal effort…and thereby creating the opportunity to capture their information for future marketing endeavors.
So, don't underestimate the power of the QR code real estate sign. By leveraging this feature, you can take your marketing to new heights, capturing more leads, and look super slick while doing it. Stay one step ahead of your competition and harness the full potential of QR code real estate signs – the future of offline marketing in the digital age! Ready to make a QR code Real Estate Sign your secret weapon.
What is a broker's Open House? We'll cover in more detail below but in a nutshell, a Broker's Open House gives the listing agent a chance to show the property…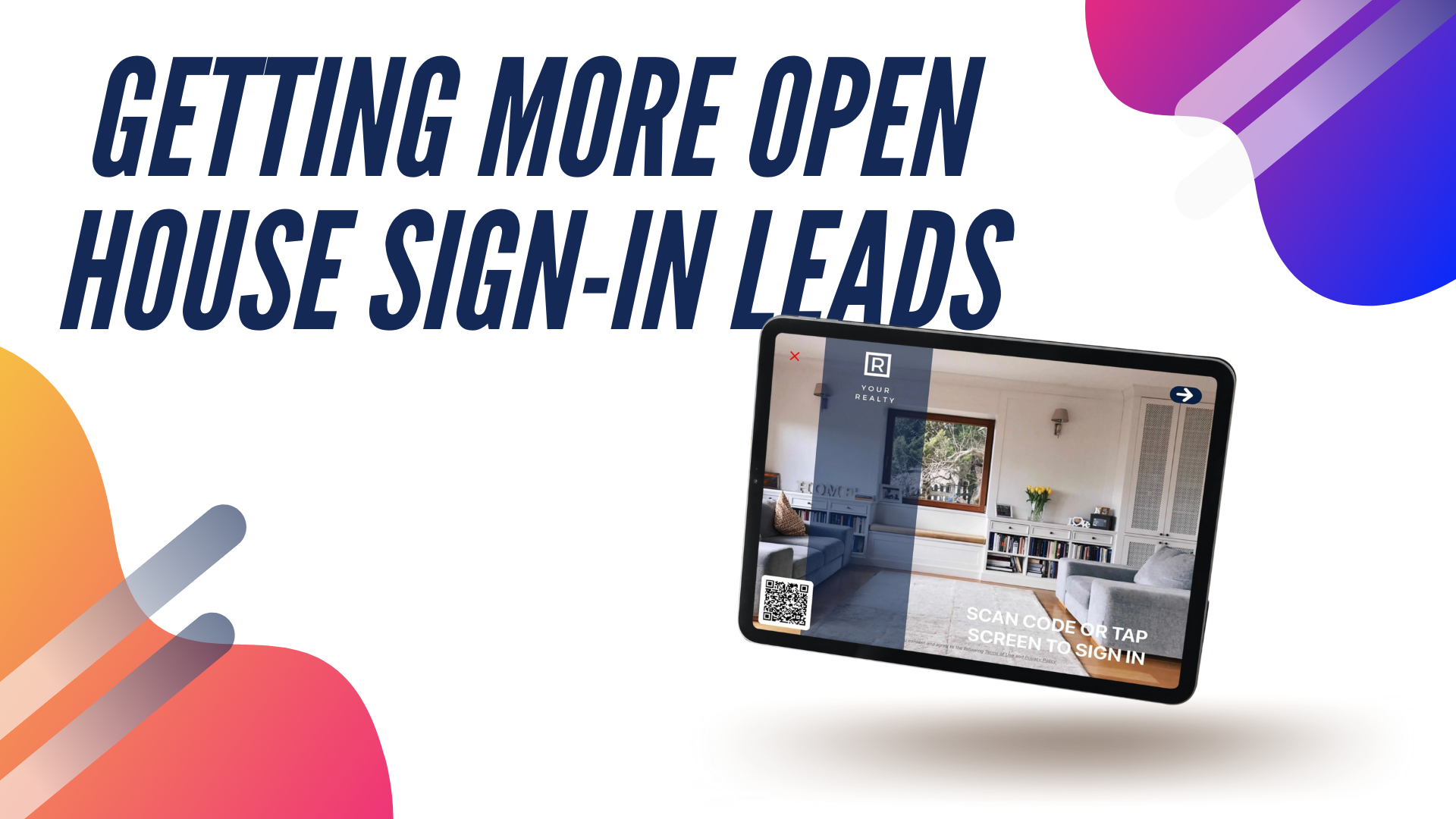 Unfortunately not every person in your open house is going to be thrilled about sharing their info so you can follow up with them and possibly nurture them to become…