Instagram Real Estate Video Ideas
Instagram is one of the top social media platforms, with almost 1.4 billion users worldwide and 170 million users in the USA alone. Now it seems like every real estate agent is on Instagram to connect with leads and build their real estate brand. 
But real estate Instagram posts come in many forms, and now with the amazing growth in mobile video consumption, real estate IG posts can become much more content rich and engaging!.
Real estate video posts on Instagram started with just a video of the home that the agent listed but now with so many possibilities within IG Stories and Reels, agents have an overwhelming set of choices when using video on Instagram. The good news agents are only limited by their creativity.
Below we'll get into IG video examples that cover a variety ideas including showing off an agent's expertise on a specific real estate topic, humorous takes on the life of an agent, neighborhood tours, and even just dancing in empty Open Houses.
Property Listings
Quick Answers
Pro Tips
Price Per Neighborhood Property Tours
Market Updates or Predictions
Recent Transactions
Drive-By Shots
Local Business Profiles
Funny 'Cause it's True
Video Testimonials
Show Off Your Process
Live Chats with Out-of-Market Agents
Before we dive into all the examples though let's distinguish between Instagram Reels vs a Story
Instagram Stories are great for posting live community events or quick thoughts about your business, but they are only available for 24 hours before they disappear.  
Reels are comparable to TikTok clips. They are short, funny, and often set to your favorite tunes check out our deep dive into Real Estate Reels for Instagram here.
With that out of the way, here are some Instagram real estate video ideas for you:
#1. Property Listings
Inspo: Aaron Grushow (@aarongrushowhomes)
Whether you hire a professional videographer or handle your listing videos yourself, Instagram is the ideal platform for making your videos stand out. Stunning imagery highlighting property features and benefits can attract buyers who can see themselves living in the home and the area. Bonus points if you've got access to drone footage!
No listings? No problem. If you're just starting out, ask colleagues for permission to film and post a video tour of their listing. They will likely agree as you'll be providing free marketing for them, after all.
#2. Quick Answers
View this post on Instagram
Inspo: The Latitude Group-Real Estate (@thelatitudegroup)
Research common real estate questions and answer them. Even better, poll your IG audience to find out their burning questions.
Then, set your phone up on a tripod, press record, and proceed to answer one question at a time. Be sure to record vertically for Instagram Reels; one question and answer per Reel. Record a bunch of questions and answers at once and post them periodically.
In their 30 Days of Real Estate Questions series, The Latitude Group responds to questions like:
Do I have to see a property before I put in an offer?
What improvements will give you the most bang for your buck when selling your home?
How many houses do you need to see before making an offer?
What is earnest money?
#3. Pro Tips
View this post on Instagram
Inspo: Keri White (@keriannkeriann)
Answering questions is one thing; giving advice is another. Pro tips are great for real estate ig posts. These videos will position you as the local real estate authority. Share steps to take OR mistakes to avoid when buying, selling, or investing, and give in-depth guidance as if every viewer were a personal client.
The profilve above includes clips that are packed with market information and include tips like:
How to correctly price your home
How to win a bidding war
How to prepare your home for sale
#4. Price Per Neighborhood Property Tours
Inspo: Josh Kepkay -Vancouver Realtor (@joshkepkay)
These selfie-styled property tours can give clients an idea of what's out there, especially when they know the city they'd like to buy in but haven't narrowed down the neighborhood. You can upload these videos as Reels. Then rinse and repeat regularly to keep your buyers updated as local market prices fluctuate.
This Vancouver real estate agent posts videos like:
How much house does $599,000 get you in Burnaby?
What $599,000 gets you in a Beachside Kitsilano Condo
What $678,000 gets you in Port Moody
#5. Market Updates or Predictions
Inspo: Judy Michaelis CT Realtor (@judymichaelisrealtor)
Market information, updates, and statistics can build your credibility and help your clients understand where they fit in today's real estate picture. These clips don't need to be fancy. Simply share the facts about your marketplace and recent trends, and explain what they mean to your audience. When you post consistently, you'll generate a loyal following that looks to you for data, insights, and predictions for your area.
#6. Recent Transactions
View this post on Instagram
Inspo: Daniel Gale SIR Great Neck (@dgsirgreatneck)
When you display recently closed sales, you demonstrate your knowledge of the area and prove your success as an agent. In addition, homeowners may watch these posts for information about the current value of their property.
#7. Drive-By Shots
Inspo: Christophe Choo (@christophechoorealestate)
Get your dashboard phone holder ready, so you can point your camera at the road as you narrate. Show off your personality and your community expertise by telling your audience all about the area.
These clips are excellent for giving neighborhood tours, pointing out local amenities, comparing nearby properties, and providing history or unique trivia tidbits.
#8. Local Business Profiles
Inspo: Andrew C Park (@andrewcpark)
When moving to a new area, people love to learn a little about the community beforehand. You are in an excellent position to provide that information. Use videos to educate folks about different neighborhoods. Interview local business owners, show off their wares, and talk about the great things they are doing in their communities. As a result, potential buyers will be informed and feel at home before the moving truck arrives. You could, for example, give a shout-out to your favorite restaurant.
1. Grab a video shot of your food before you start eating.
2. Talk about why you love the food, the restaurant, or the owner.
3. Tag the restaurant and your fellow diners in the post.
This LA real estate agent uploads Reels to highlight favorite businesses like restaurants, smoothie bars, retailers, and more.
#9. Funny 'Cause it's True
Inspo: Ian Grossman – ATX Real Estate (@realestate_atx)
Real estate is a pretty serious industry, and clients have all sorts of misconceptions about it. As the expert, it's your job to correct the errors, but who says you can't inject a little humor into your videos?
This real estate agent from Texas picks up on tidbits he hears on the street and posts humorous, personalized reels that will keep clients coming back to his channel. Of course, he also provides expert information in the text of his posts.
#10. Video Testimonials
 

 

 

View this post on Instagram

 

 

 

 

 
Inspo: Zach Slovin Real Estate – (@zackslovinrealestate)
Social proof is critical for your business. When your prospects view your clients' success stories, they get first-hand knowledge of how you'll treat them during their own real estate transactions. Testimonials help you build credibility and trust in your brand.
#11. Show Off Your Process
Inspo: Christina Pineda | Bay Area RE
Do your clients ever wonder what you do day-to-day? Why not give them a sneak peek into your business life and eliminate the mystery? Film yourself reviewing new listings online, putting signs in the ground, walking a neighborhood, meeting clients, or (ugh!) drowning in paperwork. It's a great way to create relatable content that people will engage in.
#12. Live Chats with Out-of-Market Agents
Here's an idea that we thought was terrific for real estate IG posts, but we haven't found anyone who is doing it. Maybe you should.
Hop on a call with another agent in a market different from yours. Compare and contrast industry trends and ask questions to engage your live audience. Laugh a bunch and have a good time. This type of interaction will demonstrate your level of industry connectedness and show potential clients how easy it is to interact with you.
Inspo: If you're doing this, we'd love to hear about it!
Instagram Real Estate Video Ideas Wrap Up
Instagram continues to increase in popularity and is a fantastic way to connect with your audience as a real estate expert. While the topics that agents can post about is only limited by their creativity, real estate IG posts should aim to be engaging and help agents stand out among their competition (even if it takes some dance moves to get the job done).
We hope this Instagram real estate video advice has inspired you and will help you become your area's social media guru. If you come up with an Instagram real estate video idea we didn't cover, we'd love to hear about it (DM @curbhero) and add it to the list. 
It's important to make a good first impression on potential home buyers Captain Obvious Thank you Captain Obvious…but the real question many real estate agents face is how far do…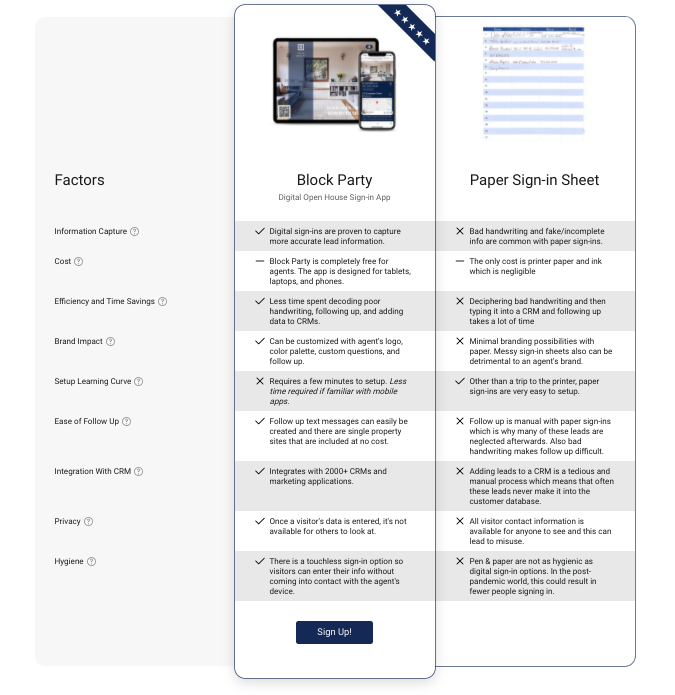 Why should I capture contact info from Open House visitors? Holding an Open House is a common way for real estate agents to meet potential clients and grow their database…
Well you're not holding that Open House all weekend because you've got nowhere else to be, right? After all the pleasantries are exchanged and the cheese platter is picked over,…