How to Advertise an Open House
Welcome to the most underrated prospecting strategy in real estate…
According to a 2021 NAR study, 53% of buyers attended Open Houses in their home buying process.
Because of this, Open Houses are one of the top ways that agents can meet new buyer clients that are outside of their referral network.
That's why when we created our massive list of Open House ideas, we spun out everything advertising related into this post. There's a lot of info below so we recommend you use this table of contents to pick the area that's most relevant.
Here are the main topics covered in this guide on how to advertise an Open House:
Reality Check your Open House Planning
Don't believe the hype – not every Open House needs to rock the neighborhood with live music, food trucks, and giveaways. That strategy does work really well when used at the right time and for the right property…but unless you've got an unlimited marketing budget that's not how to plan every Open House. There is such a thing as going "too big" (if you've ever brought a petting zoo to your listing, we're talking to you).
So here is your cheat sheet to "Right Size" your Open House:
XL: "The Mega Open House"
Criteria that should be met:
first Open House for a listing
low supply market with lots of pent up demand
property is move in ready with curb appeal
Recommendation: pull out all the stops on advertising and planning because this is a full blown coming out party for your property. If you hear other agents talking about this property using just the street number (ex: "one-five-nine is about to go on the market"), you know it's an XL situation. Check out our Mega Open House guide if you decided on this scale of an Open House.
Large: "the Talk of the Block Open House"
Criteria that should be met:
first Open House for a listing
moderate to high demand in the market
property is move in ready with curb appeal OR is a fixer that's a killer bargain
Recommendation: Go big on preparation and getting the word out. People may not know it yet but this is the "it" property of the weekend and if you advertise it using many of the tactics that we cover below, you can fill your database with hot prospects.
Medium: "The Goldilocks Open House"
Criteria that should be met:
one of the first Open Houses for a listing OR a recent price reduction
moderate demand in market
property is "nice" but may need some HGTV love
Recommendation: Not too hot and not too cold. This property may not be the talk of the town, but you can still hear opportunity knocking. This is the type of Open House that separates the pros from the amateurs because it's where your advertising, execution, and budgeting can make the difference between a solid turnout and a waste of a weekend.
Small: "Self Aware Open House"
Criteria that should be met:
a few Open Houses have already happened
low to moderate demand in market
property needs some work and someone forgot to tell the asking price
Recommendation: It's important to recognize when your property isn't going to be a trending topic no matter how hard you market it and no matter how many cookies you bake. There's no shame in holding a "Signs, Swiff, and Flush" Open House. That means you just need to put out your signs, run the Swiffer one time through and make damn sure all the toilets are flushed.
How to Advertise an Open House to Maximize Visitors
If an agent holds an Open House and no prospects come to see it, did it happen at all?

Ancient Chinese Proverb
---
Concerts and Open Houses are surprisingly similar…at least from an advertising standpoint. The main promotion activities are just about getting the word out to the target audience.
Don't believe the hype: there are no extra points for being cutting edge or trendy. This is why concert promoters still use billboards, radio promotions and other "low tech" advertising tactics.
So let's put our concert promoter hats on and think about raising awareness for an Open House. Remember which stage of the marketing funnel you're playing in too.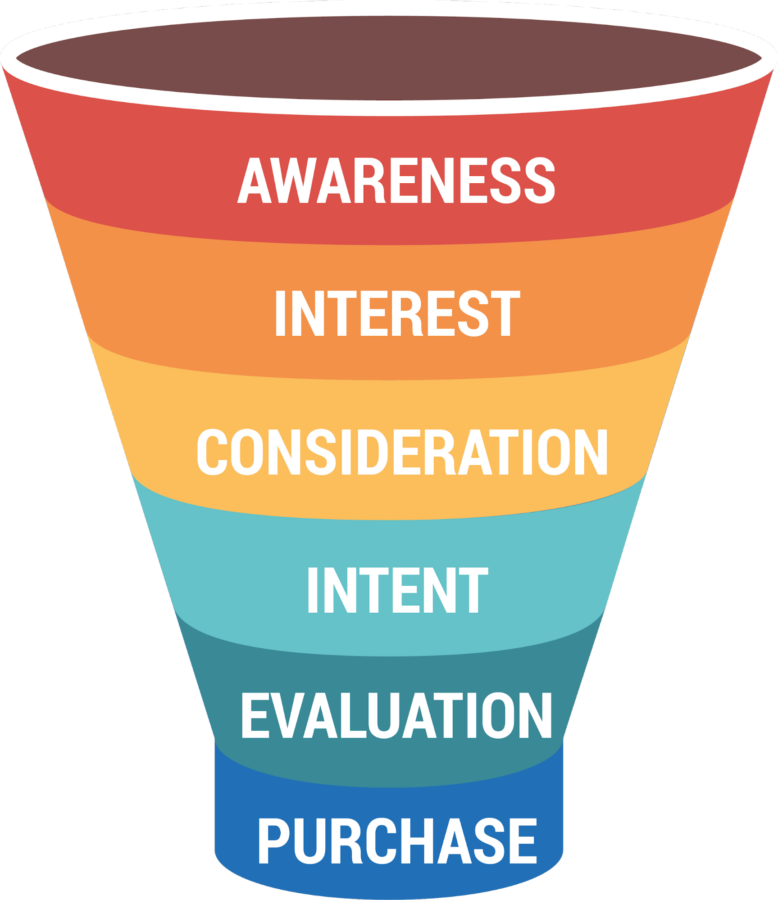 Assuming your property is new to the market or has had a significant event like a price reduction, gaining that awareness among potential buyers is critical. You can worry about all the other pieces of the sales funnel later.
Online Open House Advertising Tips
In 2022, digital marketing rules the day. If you're not using online promotion for your Open Houses, you're missing out on a highly effective way to turn leads into guests and future clients.
Let's look at a few creative suggestions for getting the word out about your event online.
Add Your Open House Dates and Times to your MLS ASAP
This is numero uno because MLS data is the source of truth that many other services rely on. Not only do buyer's agents use their MLS to find Open Houses for properties that may be a fit for their clients, but also, most brokers' MLS data finds its way to countless other consumer facing real estate sites and apps.
Love 'em or hate 'em we are talking about Zillow and Redfin BUT we're ALSO talking about the IDX platforms that power thousands of real estate sites and search engines. And these are the sites that will show up in Google's results when someone is searching for nearby listings and Open House details.
The sooner your Open House details propagate to all of these places, the more potential buyers will find the Open House in their regular online home search activities.
Open House Social Media Promotion
Posting social media about your Open House costs nothing…except a little bit of time.
Remember that the content should be tailored to the platform. This native content will boost engagement and reflect well on your brand.
Here is an example native content for Instagram: this Open House Countdown can be added within Instagram Stories. People can tap the countdown to set a notification for the event too.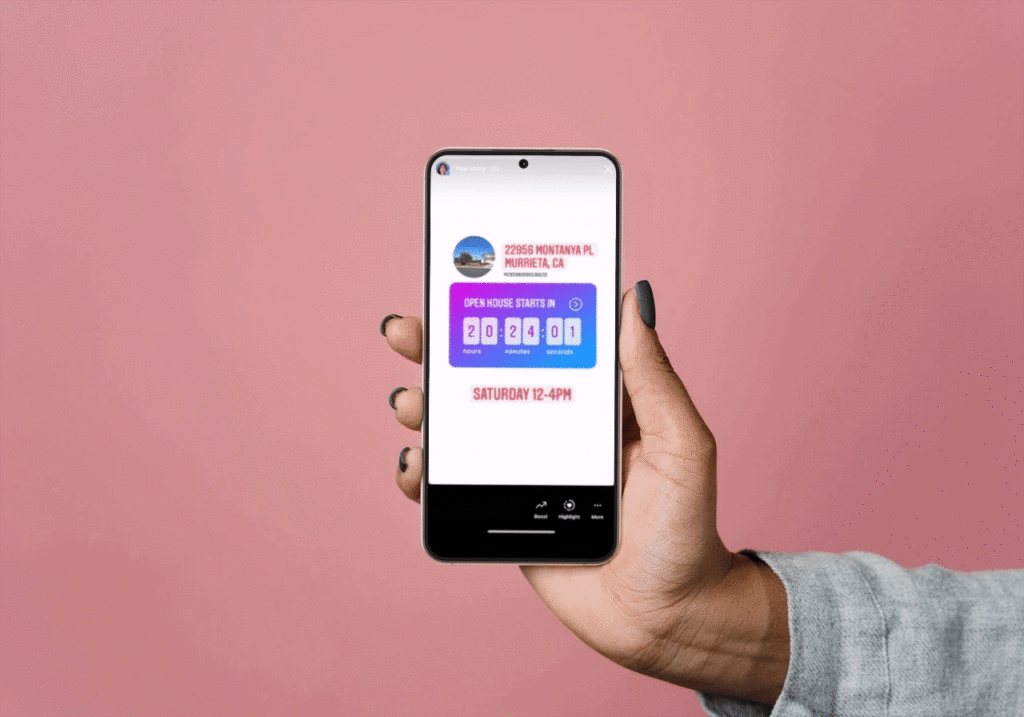 We recommend posting about your open house a few times per week in the weeks leading up to the event.
If the property is not yet active, you can still build suspense with "Coming Soon" posts. If the Open House times are still TBD you can tell your audience to keep a close eye on your feed for details. Any tactics that build anticipation are also great opportunities to ask your audience to "Enable Notifications" for your posts so they don't miss out.
And try to time your posts so that they have the best chances of being seen by your followers. According to a Statusbrew report, the best days and times to post on social media are:
Facebook: 9 AM and 1-3 PM on Wednesdays through Fridays
Twitter: 9 AM to noon on Wednesdays
Instagram: 10 AM to 3 PM on Tuesdays
LinkedIn: 9 AM to 5 PM on Wednesdays and Thursdays
Pinterest: 8-11 PM on Fridays and Saturdays
Sidenote: don't flood your social feeds with promotional posts; the best rule of thumb for realtors is to limit business-related posts to only 25% of your content. The rest should be content that isn't directly promotional in order to keep your audience engaged and interested in following you. For more tips check out our Social Media templates and Free Social Media tools articles.
Take Advantage of Facebook Events
While you should be promoting real estate open houses on all of your social feeds, social media promotion goes beyond posting especially on Facebook.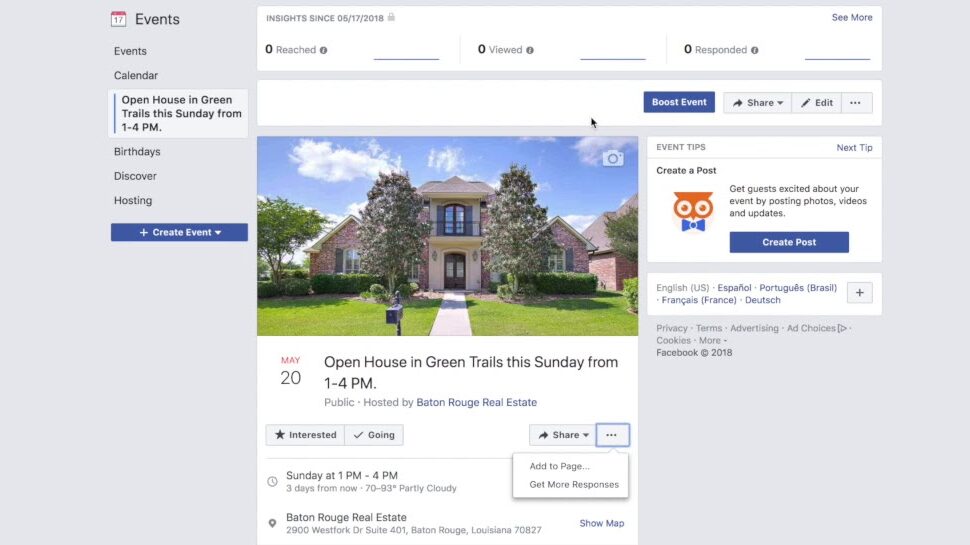 Harness the power of using built-in community features like Facebook events to boost engagement and awareness of campaigns.
Facebook Events are very flexible. They'll allow you to include near infinite info about the property and Open House but here's what we recommend adding when you create a facebook event for your Open House
Time and date of the Open House – we have some ideas if you want to stray from the usual weekend open house
Photos of the property
Basic listing information
A virtual tour or video tour showing the listing
Also if you're not sure whether to create an event or just a regular post on facebook for your Open House, the engagement that a Facebook event provides is the main driver.
Those who RSVP will be informed on their news feeds of any updates like:
Important updates leading up to the event
General thank-you messages after the event
Plus there are more engagement benefits when using a Facebook Event for an Open House:
Once someone RSVPs "yes," the event will appear on their own Facebook friends' news feeds to reach a wider audience
You can also go live on your event page on the day of the Open House. While you're answering questions from potential buyers and giving a tour in real life, your virtual open house can generate interest from online viewers.
Use High Quality Photos and Custom Graphics for Your Open House Promotion
If you're promoting your Open House on social media, images are a requirement.
The average person responds much better to visuals than to words alone. According to a Buzzsumo study, Facebook posts with images see 2.3 times more engagement than those without:
And quality real estate photography can sell a home 32% faster than homes with poor photos.
So put those two stats together and it makes a pretty clear case for not slacking on your imagery.
If you've got professional photos for the listing then use them in your online promotion strategy and make sure you're using the high resolution format because nowadays people will pinch and zoom to assess the quality of everything. Don't fight it. Embrace the pinch test.
Now if you don't have professional photos of your listing (or you want to take new photos specifically for promoting the Open House), here are a few tips for taking the best quality listing photos possible:
Do not wait until the last minute because weather and lighting may not cooperate
Use a high-quality DSLR camera with a wide angle lens (look into renting or borrowing if you don't want to purchase)
Take indoor photos when the sun is bright and behind the camera
Take outdoor photos at dusk
Shoot in RAW instead of JPEG, which gives you more control over final editing
Edit your photos using software like Adobe Lightroom (or pay $1.60 per photo for a professional editing service like Box Brownie to do it for you)
Once you have high-quality photos for your listing, use high quality graphic templates so the key info like location and timing for your Open House are included in your promotion.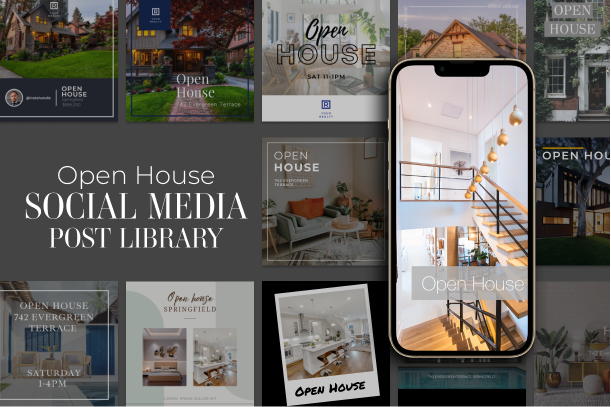 We created dozens of beautiful, customizable and free Open House graphic templates here. You can update them to match your brand too
Once the promotional graphic is done, use it across your online channels, including social media, email newsletters, and your website.
If you're sharing a graphic that just shows the property and the words "Open House" make sure all the pertinent info about the Open House is included in the social media post caption. If the graphic is used in an email or on a website, include the Open House details below/nearby the graphic.
Here's the info you should include in your promotion material:
Absolutely required: The time and place of the event and your contact info
Basic listing information: asking price, beds/baths, square footage, and appealing features of the home
Planning anything special? Play up the fun aspects of your Open House—does it have a great kitchen or an impressive back yard? Announce that you'll be hosting a cookie decorating station or a backyard barbeque for Open House visitors.
Open House Hashtags
Now hashtags alone won't make your post go viral but they help boost discoverability especially in niche categories on platforms like Instagram. And a post about an Open House qualifies as niche…so consider these popular open house hashtags in your Instagram caption: #openhouse, #homeforsale, #JustListed, #DreamHome, #OpenHouseInvite, and #ListingOfTheDay and see our dedicated post on real estate hashtags here.
How to Advertise an Open House with Signs and Print Materials
Online promotion is essential to generating interest and attendance at an Open House but don't forget the traditional approaches too. Offline and print promotion still works today and shouldn't be ignored.
Below, we'll look at some of the most effective offline tactics to advertise an Open House.
Plan to use a LOT of Open House Signs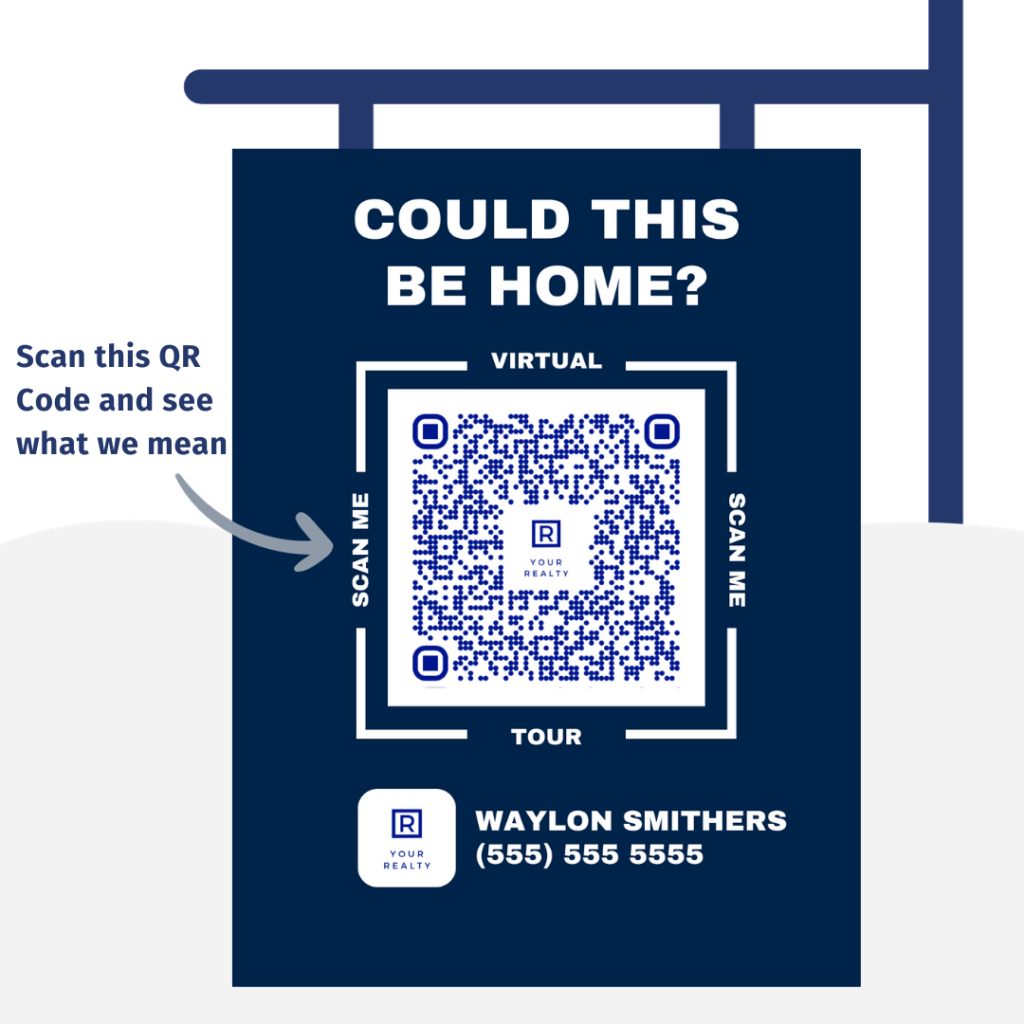 Most realtors understand that they need to use Open House signs to help direct home buyers to the property. But there's a whole other level to an Open House sign strategy where you're actually generating awareness from nothing. Yes old school as it sounds, signs can do this. Here's the important part to raising awareness for your Open House using signs: you're gonna need a LOT of signs. We're talking somewhere between 20 and 40 – of course make sure to follow the local sign ordinances unless you want to get your signs taken to the city "sign jail".
So don't just put out a few signs at the house's nearest corners. Make sure you have enough signs to place them at all major entrances to the neighborhood, as well as all intersections and stop signs within the area.
You'll want to use the signs to point the way to the Open House, so place them along all the routes a potential buyer might use to reach the property:
In the right place: They should be clearly visible from the street and the sidewalk. If the sign is blocked by a hedge or a trash can, it won't be of much use.
30 feet before a turn: If the sign is right on the corner, it won't give passersby enough warning to make the turn. On particularly busy streets, try placing a few signs every 10-20 feet leading up to the turn so that readers can be prepared to follow directions.
Facing the right way: Don't make the rookie mistake of pointing the arrows in the wrong direction. If your Open House signs have arrows, make sure they're always pointing readers towards the property.
On both sides of the street: Make sure to account for those who are traveling in all directions.
Finally, don't limit yourself to placing signs in the house's neighborhood. Think outside the box to attract more people than neighbors and those who happen to drive or walk by the nearest intersection.
Are there popular or highly-trafficked weekend hotspots in the area? You may want to place signs advertising the time and address of your Open House at places like:
Grocery stores
Farmers markets
Shopping centers
Parks
Popular restaurants
Coffee shops
Just remember to check the city's sign ordinances and any homeowner's association rules before you start placing signs, otherwise they may be removed without notice and your hard work will be wasted.
Door Knocking around the Open House
If you're wondering how else to promote an Open House offline, don't forget the power of simply doing a bit of legwork.
Door knocking can feel terrifying if you're not used to it—the prospect of having a door slammed in your face isn't pleasant. But once you've done it a few times, going door to door can be an effective (and sometimes even fun) way to find leads.
Canvassing the streets in the week leading up to the Open House lets you introduce yourself to the neighbors and engage the community, while also helping drive traffic to your event.
Quick tip for door knocking real estate agents: bring door hangers and flyers.
Why? Because not everyone answers the doorbell. Leaving behind a little something, opens up a possibility for a follow up convo even if you don't get a chance to speak to someone at every house you visit.
Placing flyers in mailboxes may be illegal, but you can still slide your Open House advertising materials into doorframes or hang them from door handles.
And always strive to take offline promotions ONLINE by using QR codes. You can use our app to create QR codes that will link to property details, photos, videos and virtual tours. Check out some of our print marketing templates that include QR codes.
And if you haven't used Curb Hero yet at your Open House you should check it out.
Have other Realtors Promote your Open House
There are so many ways to collaborate with other agents and professionals in the real estate industry to get the word out. Here are some tips to amplify your Open House advertising by working with other local agents:
Participate in a broker tour (aka broker caravan) to let other agents in your market take a tour of the property. They'll be looking at the property on behalf of their buyer clients…so if there's a possible fit, there's a good chance that they'll direct the buyer to the Open House.
If there are multiple active listings near your Open House, offer to collaborate with the listing agents to cross-promote your Open Houses. Not only does this strategy let you combine your resources, but multiple Open Houses in the same neighborhood can draw a bigger crowd and create a neighborhood buzz.
Reach out to agents in your market that specialize in representing buyers. They could single-handedly boost your Open House attendance by letting their clients know. Let them know early on so they can start spreading the word to any clients that could interested.
Seize the Opportunity
Holding an Open House is un-sexy to many agents. This lack of interest, may be why Open Houses have proven to be so beneficial to the agents that actually take it seriously as a prospecting tool. So make sure to take your Open House advertising seriously. The payoff will come soon enough when you see your next Open House bursting with activity.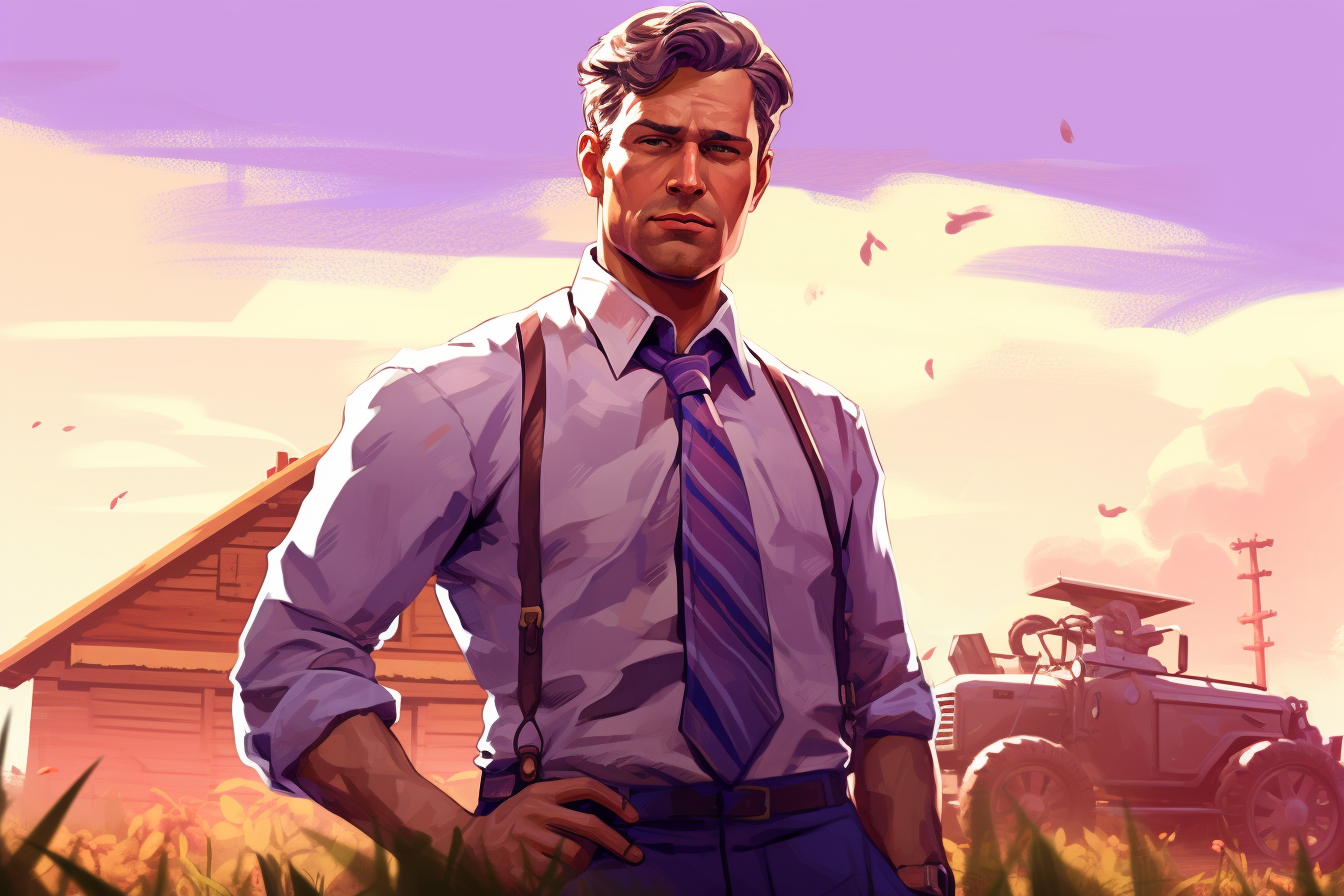 Want to become the "go to" agent in a neighborhood? It can't be done overnight, but using a geographic farming strategy (aka geo-farming) it can be done. With geo farming, you're blanketing an entire neighborhood with your branding and marketing, winning over mindshare one block at a time…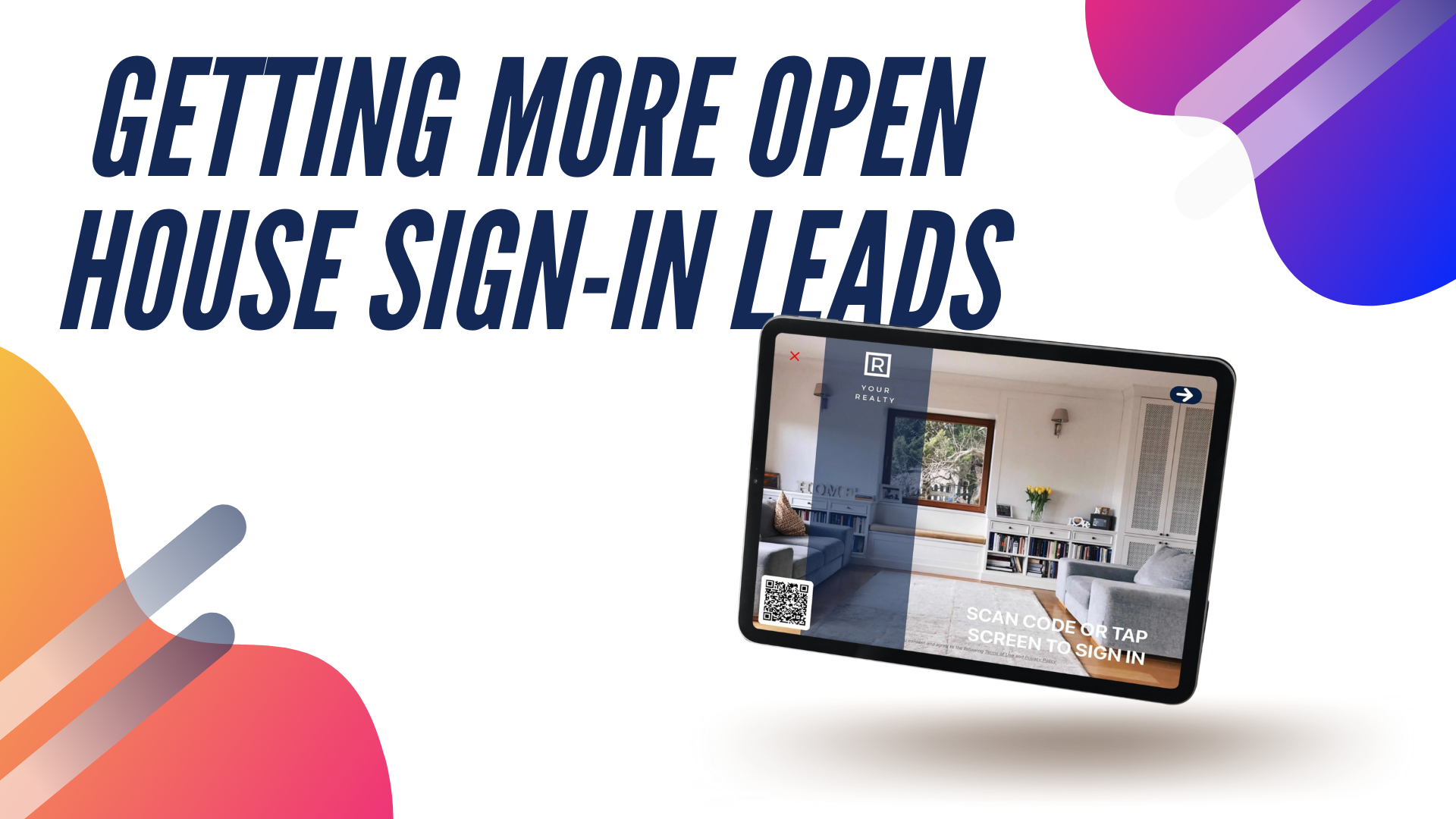 Unfortunately not every person in your Open House is going to be thrilled about sharing their info so you can follow up with them and possibly nurture them to become…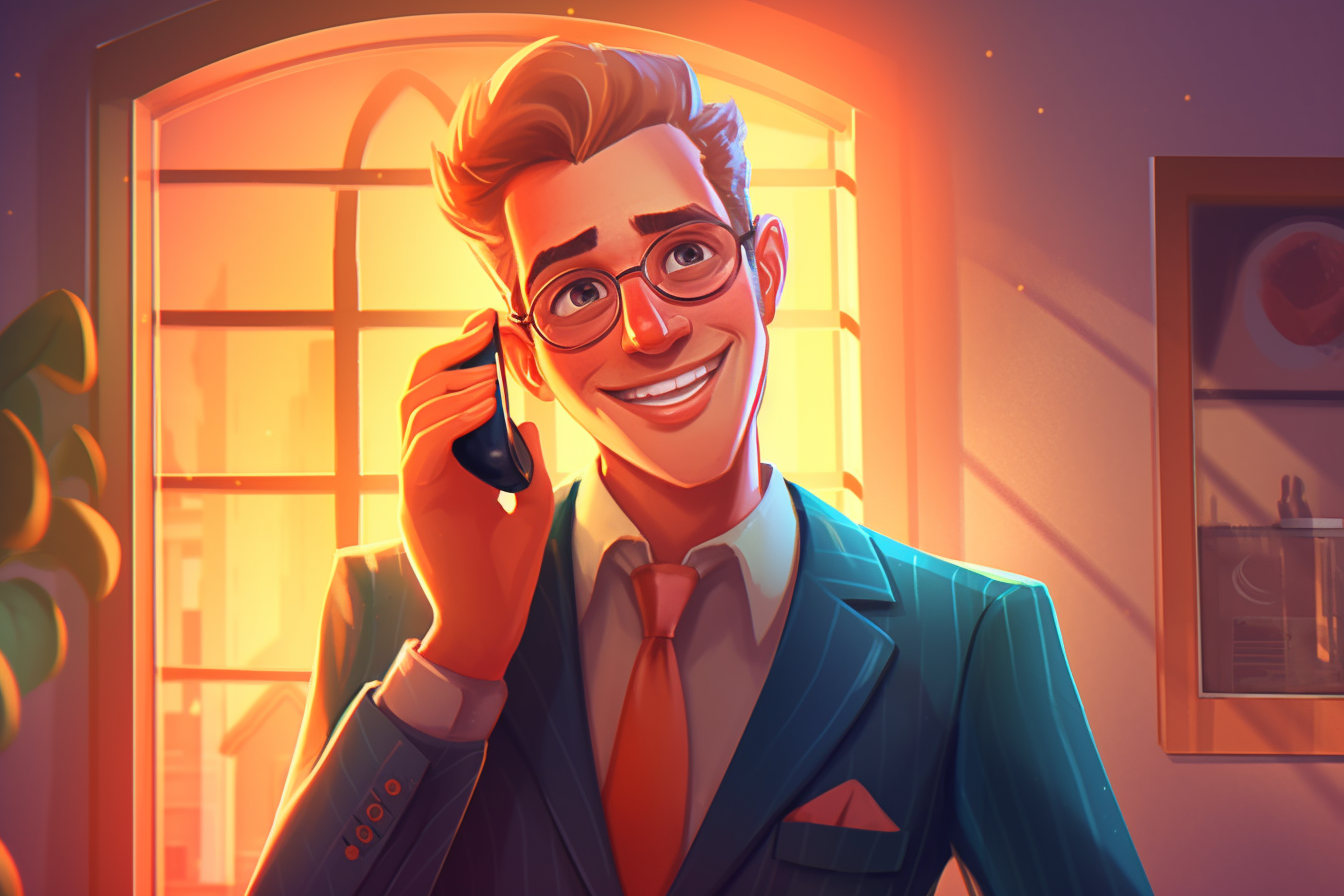 Aside from cold calling, an Open House is the rawest form of the real estate sales process. Here's why: You've got visitors entering a property with their guard up. Many…